I was preparing tea last night, which was delicious in itself (pollack with spinach, new potatoes and poached egg, with mustard dressing, served with carrots and asparagus), when I couldn't bring myself to chuck out the stems of asparagus. They have to have some use, yes? Oh yes indeedy! I give you Asparagus and pea soup.
I decided to quickly saute some onions, and cook the asparagus stalks in some chicken stock, and while I was at it, figured I'd chuck in some frozen peas. A good dash of black pepper finished it off, and then it got a good blitz in the blender. And there I have a quick and healthy lunch for the following day.
Then I was putting the peas back in the freezer, when I spotted the massive hunk of Stilton that Mr bought from M&S at New Year, for a bargain price that was too good to refuse – but also clearly too big to eat in a short enough time frame. To be honest, I'd pretty much forgotten about it. The soup with a bit of Stilton crumbled over was starting to sound like a match made in heaven.
So fast forward to lunchtime, and while I was retrieving the pre-made soup from the fridge, I happened to glance upon the bacon…. ooooh. My tastebuds were already in overdrive. I quickly grilled a rasher until it was crispy, chopped it up, and sprinkled half over the top, before crumbling the Stilton around it.
And this was the result:
 
Adding up the numbers, I figure my asparagus and pea soup is under 110 calories (half of which are the bacon and cheese), and a total cost of approximately 43p! (I did say the Stilton was silly money – it was £1.25 for 676g!) Not bad for a delicious lunch made from leftovers, if I do say so myself.
Would I make it again?
Oh yes. It was completely delicious, and so easy, there is no reason not to make it again
How easy was it?
If I tell you that I made the soup while simultaneously chatting to, and making tea for, four small boys, that might give you a clue as to how easy it was. Possibly the easiest soup I have ever made.
What would I change?
Unusually for me, absolutely nothing. This was a pretty much perfect lunch!
I am linking this recipe post up with A Mummy Too's #recipeoftheweek roundup. Make sure you head over there and check out some other fabulous foody posts.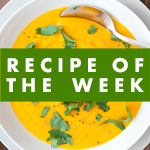 Since this is an especially thrifty lunch, I am also joining in (for the first time… eekk!) with #creditcrunchmunch, a joint venture by Camilla at Fab Food 4 All and Helen at Fuss Free Flavours (also this month's host), so for more frugal recipes, have a look at all the other fabulous entries!