Youngest son has decided that snow leopards are his favourite thing ever. He is an animal lover in general but for some reason snow leopards have particularly caught his attention, to the point that he desperately wanted to adopt a snow leopard after seeing an advert in his National Geographic comic. The soft touch that I am has done just that (but to make it "his" he is paying for it by doing the hoovering every Saturday morning – I'm tough like that). As a surprise last week, I decided to make a leopard cake for him when he came home from school. It took some doing, but the look on his face was worth every second of time spent up to my elbows in cake mix.
The actual making of the cake wasn't technically difficult, just time-consuming. I'm trying to work out how Ican make a football version for Eldest as we speak!
If you want to have a bash, here's what I did…
Secret Leopard Print Cake
Ingredients
175g butter/margarine
175g sugar
240g self raising flour
3 eggs
1/2 tsp vanilla extract
25g cocoa powder
orange food colouring gel
Method
1. Cream the butter with the sugar, until light.
2. Add the eggs, one at a time, with a spoon of flour, and mix well, with an electric whisk.
3. Fold in the remaining flour, then, leaving about a quarter of the mixture in your mixing bowl, split the remaining half between two bowls.
4. Colour one bowl of mix orange, and add the cocoa powder to the other bowl.
5. Put the orange mixture, the chocolate mixture and some of the plain mixture into piping bags (as you can see, I don't have enough piping bags, so had to improvise with food bags).
6. Spoon a thin layer of plain mixture into the bottom of a greased and lined 6″ round cake tin.
7. Carefully pipe concentric circles of the chocolate mixture on top of the plain layer.
8. Pipe a thinner layer of orange on top of the chocolate mixture.
9. Pipe another layer of choclate over the orange, and use the wrong end of a teaspoon to mould the chocolate layers together around the orange, if necessary.
10. Pipe some plain mixture in the gaps between the chocolate circles, then cover the rings with more plain mixture – very carefully, so you don't dislodge the pattern you have made.
11. Repeat with a second cake tin (or bake one at a time if you don't have two tins the same size).
12. Bake in a preheated oven at 180C (160C fan) for 45-50 minutes, or until a skewer comes out clean. Leave to cool on a wire rack.
13. Cover with pale beige buttercream icing (icing sugar and butter) and leave to firm.
14. Colour some fondant icing dark brown (it's easier to get it dark if you knead with cocoa powder first) and roll or cut into thin strips. Shape these into irregular circles and place on the cake, then fill the circles with darker orange buttercream, to create the leopard print pattern.
I flavoured the orange cake mix and the orange buttercream with a little orange zest too, just for a bit of added yumminess. J was thrilled to bits with his cake, although he wasn't as surprised as I thought he might have been when we cut it! He must be getting a bit too used to my baking exploits, I think.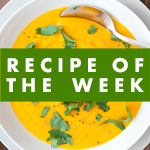 I'm adding this to this week's Recipe Of The Week, hosted by A Mummy Too. There are lots of other tasty treats and delicious dishes to have  look at over there, so pay a visit and see what takes your fancy.
I'm also joining in, for the first time, with Mummy Makes Cakes, who is hosting a collection of celebration cakes this month. Pop along and see what you could be celebrating with.